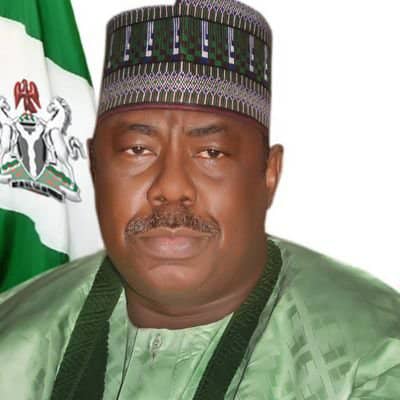 Minister of State for Agriculture and Rural Development, Mustapha Baba Shehuri has said that partnership between the Housing and Agricultural sectors is crucial for the achievement of the government's projections.
Hon. Shehuri who has served in various governmental positions before his appointment as a minister, made the remark at the ongoing 14th edition of the virtual Abuja International Housing Show on Tuesday.
The Minister who expressed delight over the iconic event, said "I am particularly delighted to be a part of this year's Abuja International Housing Show. I consider it a rewarding experience to share a few thoughts of mine in what is the first virtual edition of the show which has been running for 14 years now.
"Covid-19 has in no small measure created some level of disruption in the way we do things over the years. But for the organizers of AIHS, the show must go on. I applaud their innovativeness and ability to constantly unite important stakeholders offline and online.
"One can easily concede that a time like this when our world is facing unprecedented challenges is when stakeholders even need to dialogue more. The medium of interaction may have changed, but the message is the same. We must always come together to share ideas, plan and execute. It is the only way we can make progress happen".
He lauded the organizers of the Show "for figuring out a way to make this happen. This is a testament to their grit and unrelenting ambition to improve the society at large".
"For all they have done over the years in the area of advocacy in the housing sector, I must say that AIHS deserves all the support it is getting. The result of their determination is evident enough".
Shehuri stressed that "With the impact of Covid-19 on economies all over the world, new ideas are emerging on how to revamp the economy, and our country should not be left behind in that much needed duty.
"This is one of the reasons that informed my decision to participate in this year's housing show. In the Federal Ministry of Agriculture, we have always acknowledged the need for a link between agriculture and housing; and it is our desire to work with housing stakeholders in that regard.
"While the link between agriculture and housing predates modern society, it is even more important today. One of the greatest solutions to rural-urban migration is the ability to establish a strong link between agriculture and housing.
"A properly developed agricultural system, like we are driven to do, will be an incentive for many to live close to where they farm".
He emphasized that the administration of President Muhammadu Buhari is very committed to giving agriculture the priority it deserves. "This commitment has birthed a lot of policies and programs that are already making significant differences".
"With our already operational agricultural funding schemes, the disbursement of high value seeds and farming implements, we are increasing the productivity of farmers in their communities.
"With our projection, farmers should be entitled to the opportunity of owning a home through their farm. Their farm and the yields which are sold to off-takers guarantees them enough security to demand for a housing loan or mortgage. This is where we need a strong partnership between the housing and agricultural sectors.
"By providing our farmers across the country with affordable housing, we would have succeeded in creating a great incentive in agriculture which will pull in more youths and investments to both agriculture and housing. This unlocks a lot of economic opportunities that wouldn't only improve our GDP ratings but reduce unemployment and rural-urban migration.
While urging the populace to tag along the projection, he said "It is our responsibility to make a difference, and AIHS has presented us the opportunity to do so; let's seize it".